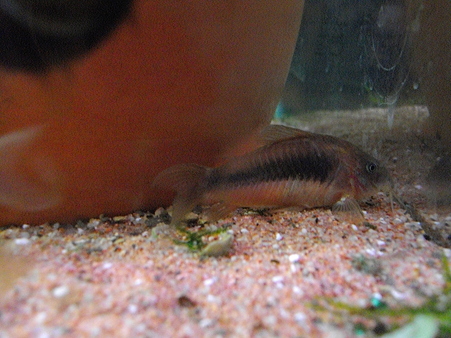 ビッグママ、のっぺりしてます posted by (C)しば
Yesterday, I decided to quit keeping corydorases.
I really love them, they've really healed me, but I'm too busy to keep them in good condition anymore.
Broze corys originally live in South America, but their hometown is not as hot as we imagine.
They prefer cool water, and get ill in hot water over 30 degrees C.
We should keep their tank water cool at least under 28 degreec C, for example we air-condition the room where we set our cory tank(s) all day or set an aquarium chiller at each tank to cool tank water.
But...I can't air-condition the tank place(s) all day nor get a chiller for them.
So, I brought my young corys to my favorite fish shop and asked the owner to adopt them.
Maybe I will take my adult corys there tomorrow.
Thank you so much for giving me happy times, and live happily with the new owners!!!